Triangle Mechanical Contractor, Inc. is a leading RTP North Carolina mechanical contracting firm that offers full-service design-build, engineering, piping, consulting, and project management for commercial, industrial and institutional plumbing projects. Serving RTP North Carolina and surrounding areas since 1973, we use the highest trained personnel and finest quality plumbing material available to provide top quality plumbing workmanship on-time and in-budget. We welcome the opportunity to be of service, Call us at: 919-779-1210.
Our extensive portfolio includes complex design solutions for demanding building environments with projects such as design / build plumbing, commercial plumbing, backflow installation, grease interceptors, vacuum air and chemical piping, hospital plumbing, medical gas piping installation (certified installer), industrial piping, natural gas piping, domestic water and other projects. Please visit our Projects page to view our commercial, industrial and institutional plumbing portfolio. We take pride in the quality of our projects and how our business can be depended upon to deliver timely and efficient projects.
Triangle Mechanical Contractor offers full-service for all of your commercial plumbing contracting and design needs – delivered on time and in budget. Contact us to discuss your commercial plumbing project and determine how Triangle Mechanical Contractor's Master Plumbers, Line Mechanics, Helpers and Laborers and unsurpassed office staff can be a benefit to your commercial plumbing project.
Please note: we ONLY do commercial and institutional plumbing, we do NOT do any residential plumbing.
Commercial Plumbing Services

We offer the full range of commercial plumbing services from design/build plumbing, hospital plumbing, certified medical gas piping installation, industrial piping, air piping, natural gas piping, backflow installation, grease interceptors, commercial drainage and more. Please visit our Commercial Plumbing Services page for a complete list and details.
Visit our Plumbing Contractor Projects page to view images and learn more about our work.

About Us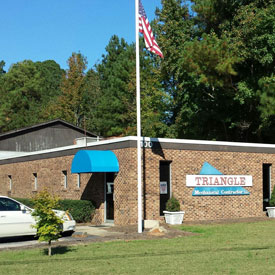 Using a process-oriented, lean approach that results in a quicker, more efficient business environment and cost-effective project turnaround our corporate offices and warehouse facilities are found at same location. Click here to learn more about us...
Projects
Our wide range of commercial plumbing contractor services means we work in several core markets such as multi-story office buildings, hospitals, universities, laboratories, multi-use buildings, parking decks, restaurants, airports, retail and other commercial and industrial plumbing projects. Click here to view a selection of diverse commercial plumbing projects.
Featured Project

Terry Center Veterinary School, North Carolina State University
Raleigh, NC

Triangle Mechanical Contractor, Inc. Commercial Plumbing, 100 U.S. Highway 70, Garner, NC, 27529 Call: 919-779-1210